Shimadzu Prominence PDA HPLC/UFLC System with Software Package
In conjunction with newer reversed-phase columns, this reconditioned HPLC system offers the familiarity of conventional HPLC with the compatibility for Ultra Fast LC, providing the possibility to achieve up to ten times faster analysis times at typical HPLC operating pressures.
Additionally, a high-speed sample injection mechanism reduces total analytical cycle time. With this combination, Prominence UFLC offers up to three times higher resolution than conventional HPLC, so that the possibility to analyse samples that are not sufficiently separated by conventional HPLC is increased.
This fully refurbished and tested high pressure binary gradient HPLC System comprises the following modules, and offers a high performance, cost-effective solution for your laboratory:
DGU-20A3 Solvent Degasser
CBM-20A System Controller
LC-20AD Pump x 2
SIL-20A HT Autosampler
CTO-20AC Column Oven
SPD-M20A PDA Detector
DGU-20A3 Solvent Degasser
Uses fluoroethylene membrane
Internal capacity 0.4 mL
Three solvent capacity
LC-20AD Pump
Flow Rate: 0.0001 to 10.0000 mL/min
Automatic pulsation-correction mechanism
High-speed micro plunger drive
SIL-20A Autosampler
Injection Volume: 0.1 to 100 μL
Capacity: 175 (1mL vials), 70 (1.5mL vials), 50 (4mL vials)
CTO-20AC Column Oven
Temperature Control: 10°C below room temperature to 85°C (operating range
SPD-M20A Photodiode Array Detector
High sensitivity detector
Wavelength range: 190 to 800nm
Bandwidth: 1.2 nm (high-resolution mode)
 Data Apex Clarity Control & PDA Analysis Software Package
HPLC System and Autosampler Control
PDA Analysis Software Extension
Windows 10 PC with Monitor, Keyboard & Mouse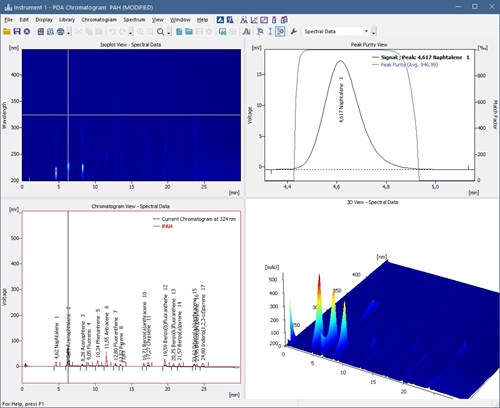 Options:
For further information please contact us.