Data Handling - Data Apex Clarity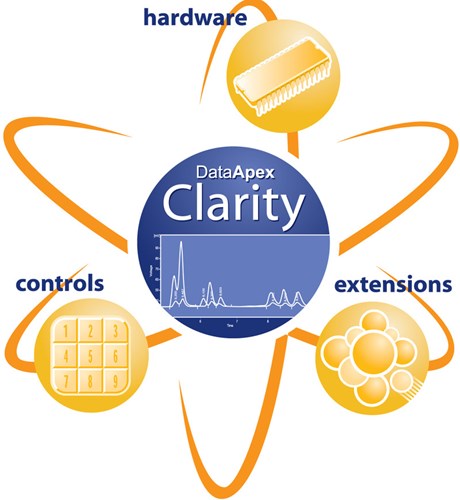 Data Apex Clarity provides highly configurable 32-bit data handling capability and flexibility previously only available in significantly higher priced systems.
Feedback from users in over thirty countries has made this package stable, user oriented and easy to learn.
The user interface is remarkably intuitive allowing an easy transition and rapid familiarisation for new users in education, research or industry. The short learning curve makes it ideal for college and student use. The power features such as data export, advanced reporting and System Suitability calculations make it suitable for even the most demanding application.
Data Apex Clarity also offers an array of instrument control modules, any of which can be fully integrated in the software package at low cost.
The package contains everything you need, plug and play USB data acquisition interface, software on CD, manuals, pre-wired signal cables, trigger cables with push button switches and even a mouse mat.
Add on modules are available to facilitate control of a larger number of instruments, as well as extensions for dedicated tasks such as PDA analysis, GPC/SEC and NGA.